How badly do the weather conditions need to be to postpone the event?
This event is held in an alpine environment and is a challenge to the Competitors. Contingency plans exist in the way of running the Event using an alternate course for the Snow Stage if conditions allow, however, if the weather is not conducive to running the event in a safety conscious manner the event will be cancelled.
The decision to proceed, alter or cancel the Event will be made by the Contingency Committee.
The first weather assessment and decision regarding the preferred Event Course will be made at 6am Event Day.
The Contingency Committee will consider if the preferred Event will take place; if the weather conditions are likely to effect the preferred Event causing either a delay (up to one hour from the preferred start time) or a contingency plan to be actioned; or if the preferred Event will be postponed or cancelled.
The Event will only be delayed if the weather information could show weather conditions improving enough for the Event to still take place.
Consideration will be given to the Volcanic Alert levels, Road Conditions, Temperature, Visibility, and Wind Speed in relation to safety and the decision to delay, alter or cancel the preferred Event.
Volcanic Alert Levels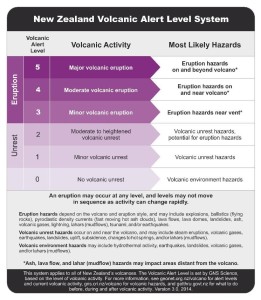 If the Volcanic Alert Level of Mt. Ruapehu is at Level 2 or above (see below for definitions)
Geonet will be monitored in the week leading to the Event and on Event Day. Click here for Mt. Ruapehu's current classification.
Road Conditions
If there is extreme weather conditions on the Ohakune Mountain Road that would impact athlete safety. These include, but are not limited to ice, hail, sleet, snow, rain and thunderstorms.
If prevailing weather conditions force, or are predicted to force a partial or full closure of the Ohakune Mountain Road during the Event Day.
If there has been significant rainfall (greater than 80mm within the 24 hours pre Event) that would impact athlete safety on the downhill bike stage.
Temperature
If the current and predicted temperatures at Turoa and Ohakune is considered to be too low for athlete safety i.e. if the apparent temperature when considering wind chill is less than 10 degrees Celsius.
Visibility
If the visibility on the preferred Event course at Turoa is less than 100 metres
Wind Speed
If the wind speed is greater than 40km per hour (Strong Classification by Met Service)
| | |
| --- | --- |
| Classification | Wind (km/h) |
| Light | <15 |
| Moderate | 15-29 |
| Fresh | 30-39 |
| Strong | 40-59 |
| Gale | 60-89 |
| Severe Gale | >89 |